Young Couple Make Bequest of Insurance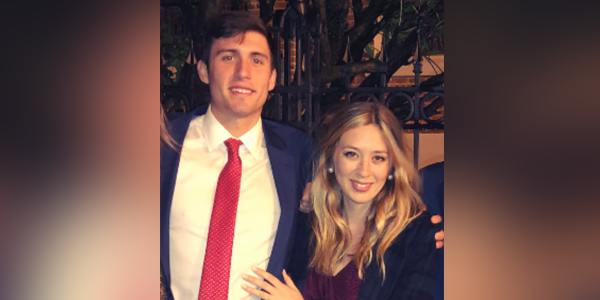 Ty McCormack and his fiancée, Kylan Maguire, were making plans for their wedding and future together, and near the top of their list was a discussion about estate planning. As a financial planner and son of an estate planning attorney, Ty understands the value of having all of one's financial affairs in order at all times. He had also been taught, from a young age, the value of philanthropy and the belief that "as each one has received a gift, use it to serve one another as good stewards of God's varied grace" (1 Peter 4:10).
"I was blessed to have been raised in a Roman Catholic family where our faith came before anything else. In my career and personal life, I am very prudent with money in regards to which organizations I trust with my assets. After doing a thorough analysis of The Catholic Foundation of Central Florida, I felt confident that there was no other place that would honor our charitable legacy better."
Upon notifying The Catholic Foundation of their plan to leave a legacy gift as partial beneficiary of a life insurance policy, Ty and soon to be wife Kylan, both age 27, have become the youngest members of the Vivos Christi Legacy Society. Their beautiful, selfless gift will make it easier for current and future generations of engaged couples to establish marriages based on Catholic values that promote family life centered on faith.
Ty and Kylan's gift demonstrates that it is never too early to begin planning your legacy of impacting lives and stewarding the gifts that God has given you. Creating your Catholic legacy can be a simple five-minute process of naming your favorite parish, parish school or ministry as a beneficiary in your life insurance policy, IRA or bank account.
Is a bequest of a life insurance policy right for you?

Creating a bequest of life insurance is an easy gift to establish. You can easily leave a life insurance policy to charity if the policy is no longer needed for its intended purposes by completing a beneficiary designation form. If you have questions about bequests of life insurance policies, please contact us. We would be happy to answer any questions that you have.

*Please note: The names and image above are representative of a typical donor and may or may not be an actual donor to our organization. Since your benefits may be different, you may want to click here to view an example of your benefits.